Taumarunui Canoe & Jet Tours
Welcome to the River
Your Whanganui River Canoe Adventure starts right here, with us....
AS WHANGANUI RIVER CANOE & JET BOAT OPERATORS we provide canoe, kayak and bike hire, and exhilarating jet boat tours. Take a trip through the many exciting rapids and lush native bush with some of the best scenic landscaping in the world, all found right here on the incredible Whanganui River.
---
Phone
NZ (freephone): 0800 226 6348
Mobile: 027 553 8687
Overseas: +64 7 895 7483
Email
Online Booking
A Deposit of $50.00 is taken to secure your Whanganui Journey (for up to 6ppl). If you have a larger group, we will email you your deposit amount when you inquire.
Address
292 Hikumutu Road, Taumarunui 3992
---
Why choose us for your Whanganui River Adventure?
Local family owned and operated
Based in Taumarunui town with exclusive riverside location and boat ramp
Free camping available before and after with incredible river views
Shower and Toilets
Onsite accommodation
Complimentary barista coffee at morning safety briefing
Muffins and juice on pickup from multi-day trips (Council Approved)
Full safety briefing and on-the-water training for every trip
All Great Walk transport is included
TripAdvisor Hall of Fame 2019
Silver Qualmark for Canoes and Jet Boats
Experienced and friendly staff
Free car parking on-site
Youth only charged as Adults until they are 18 years old
We can do your campsite and hut bookings with NO extra fees
2 jet boats available for tours and safety rescues
Free Wi-Fi
We can store your backpacks and bikes while on the river and bring them to you in Pipiriki
Quality modern equipment available for hire
Alternative private campsite options instead of DOC
Bike hire from Pipiriki to Whanganui
Council-registered for catering
Transport to and from the Great Walk section of the Whanganui River Journey is included in the price.
---
Get a taster of what you can expect on your Whanganui River Journey.
We provide training and accurate information on canoeing and kayaking the Whanganui River Journey, have top-quality modern equipment available for hire, and most importantly we deliver an experienced professional and personalised service.
You will receive waterproof barrels for carrying your gear, life jackets, maps, and our canoes are some of the newest on the river. Every year we put around 20 brand new boats onto the river.
All you need to bring is your camping gear and food, and we have a full range of modern and high-quality camping gear for hire if you forgot something or need anything extra. If we do not have the gear on hand, we live on site and have been known to raid our home to get what you need).
You can also hire our bikes and we will bring the bikes to Pipiriki so you can continue your journey to Whanganui by bike so you don't have to paddle the whole way.
At the start of your trip we give you a thorough safety briefing and video presentation at our office to demonstrate paddling techniques, river reading skills, hazards to look out for and how to deal with them, and the campsites you will be staying at. We follow up with on-the-water training to fully prepare you for your journey. We understand the most of our customers have never canoed or kayaked before, but after our safety briefing and training we find that they thoroughly enjoy their Whanganui River journey and find it well within their capabilities.
We are a Silver Qualmark-endorsed Whanganui River canoe and jet boat operator based at the beginning of the river. We also operate a rescue and emergency jet boat service along the first few days of the river. If you are paddling with us and require an emergency rescue, the rescue fee is discounted.
Everyone can enjoy one of our Whanganui River trips, including families, large groups, corporate bookings, and all levels of paddling experience. Your safety, comfort, and enjoyment is our main priority. If you have children or would like a really relaxed journey, ask us about adding an extra day to your trip.
We run multiple buses and vans for a fast pickup at the Pipiriki boat ramp and have them ready to leave so you don't have to wait around when you reach the boat ramp.
We will never ask you for payment in full until you arrive to do your journey.
The river is unpredictable and can go into flood overnight: it is much easier to refund your deposit than the full payment should your trip be cancelled or postponed.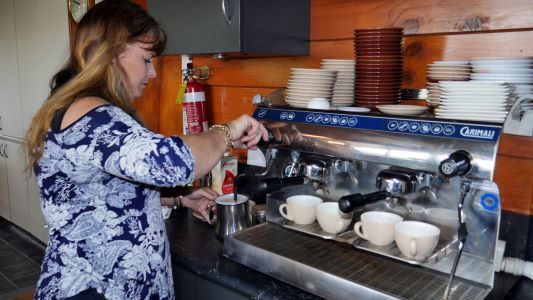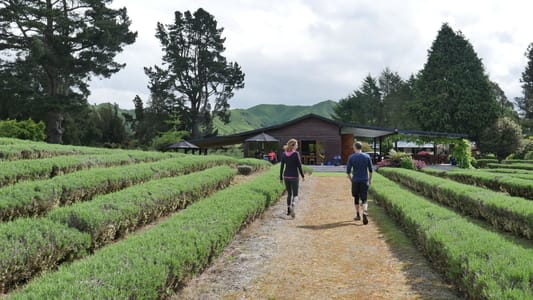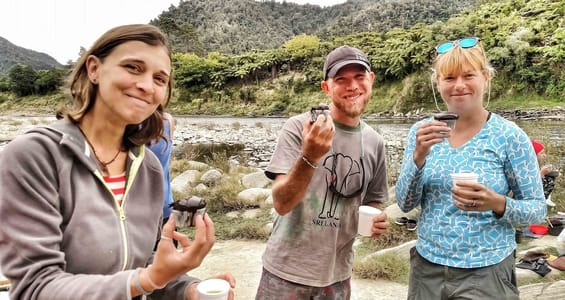 Our base is close to Taumarunui, perched up on a hill overlooking the Whanganui River, Taumarunui township and Mount Hikurangi. Our emphasis is on relaxation and fun, all in a special, unique setting.
Our business relies on us working together as a close-knit family to make your holiday as enjoyable as we can, and you will be welcomed as part of the family from the moment you arrive.
We have free camping with free Wi-Fi and shower, also there is barista coffee to enjoy during your morning safety briefing. When you finish your multi-day journey we will welcome and congratulate you at the boat ramp with home baking and a drink.
You are welcome to hire one of our well-appointed guest accommodation units. You are also invited to park your campervan on our beautiful, grassed camping area overlooking the Whanganui River for free at the start and end of your river journey.