Taumarunui Canoe & Jet Tours
Welcome to the River
Your Whanganui River Canoe Adventure starts right here, with us....
AS WHANGANUI RIVER CANOE & JETBOAT OPERATORS we provide canoe/kayak/bike hire and exhilarating Jet Boat Tours. Take a trip through the many rapids and lush native bush with some of the best scenic landscaping in the World, all found right here on the incredible Whanganui River.
To ENQUIRE about a Whanganui River Journey click the email below:
A  Deposit of $50.00 is taken to secure your Whanganui Journey (for up to 6ppl).
If you have a larger group, we will email you your deposit amount when you inquire.
---
TRANSPORT TO AND FROM THE GREAT WALK PART OF THE WHANGANUI RIVER JOURNEY IS INCLUDED IN OUR PRICE
---
Our Address is
292 Hikumutu Road
Taumarunui 3992
Our Free Calling number is   08002266348
Calling from overseas 0064 78957483
Karens' Cell number 0275538687
---
Why choose us for your Whanganui River Adventure?
Trip Adviser Hall of Fame 2019
Silver Qualmark for Canoes & Jet Boats
Riverside and Town Base
Freedom Camping Before and After
Incredible Campsite Views
Family owned and operated
Youth not charged as Adults until they're 18yrs
Barista Coffee at Briefing
Council Registered for Catering
Full Safety Briefing
On the Water Training
Muffins and Juice on pickup
Free Car Parking
Free WIFI
Experienced Friendly Staff
3x Jet Boats for Tours and Rescues
We will Store your Backpacks while on the river
Transport Bikes and Backpacks to Pipiriki
Quality Modern Equipment
Private Campsite Options instead of DOC
If you arrive late we will have a tent set up for you*
Will do Campsite/Hut Bookings NO extra Fees
Hire Bikes from Pipiriki to Whanganui
*If you're arriving late and book a Tent to be put up 2 or more days in Advance, we will set tents up at our campsite so you're not having to do this in the Dark.
---
Catch us on YOU-TUBE
Get a taster of what you can expect on your Whanganui River Journey. Simply click on the picture below
 We provide up to date top quality equipment, give accurate information on Canoeing & Jet-Boating for the Whanganui River Journey and very importantly we deliver a quality Professional & Personalised service.
You will receive Waterproof Barrels, Informative Maps, Life Jackets and our Canoes are some of the newest on the river.          (Every year we average getting 20 Brand New Boats).
All you have to supply is your Camping Gear and Food. Even then we have every sort of Camping Gear for Hire (If we dont have something you need we live on site, and we have been known to raid our home to get what you need).
You can even hire our bikes and we will bring the Bikes to Pipiriki for you to Bike to Whanganui so you don't have to paddle all the way.
WHY we give you a thorough Safety Briefing at our office is to show you on Video the Hazards and the Campsites, this sets you up for an amazing well informed journey and helps to keep you safe.
We are the only SILVER Qualmarked Whanganui River Canoe & Jet Boat Company on the top end of the River for your safety, and if you are paddling with us and a Rescue is required, we have a smaller Rescue Fee.  If your hiring from another Company, rescue fees are more expensive.
Most of our customers have never canoed, rafted or camped before but thoroughly enjoy their Whanganui River Canoes and/or Kayaks and find it well within their capabilities.
Almost anyone can enjoy one of our journeys including large groups, business trips, families, beginner paddlers, experienced Kayakers and those that like a challenge and loads of fun on the Whanganui River. Your comfort, enjoyment and safety is our main priority. (Ask about an extra day if you would like a really relaxed journey or if you have children.)
Another great thing about doing the Whanganui Journey with us is we have multiple Buses and Vans running which makes it really fast picking up at the Boat Ramp in Pipiriki on busy days.  We have the vehicles waiting at the Boat Ramp and as they fill up we leave with our Customers, so YOUR NOT WAITING AROUND.
WE WILL NEVER ASK YOU FOR PAYMENT IN FULL UNTIL YOU ARRIVE TO DO YOUR JOURNEY. 
The river is unpredictable and can go into flood overnight, should your trip be cancelled it is easy to refund a deposit in full, but not so easy to refund 40 or 50 people who have paid in full.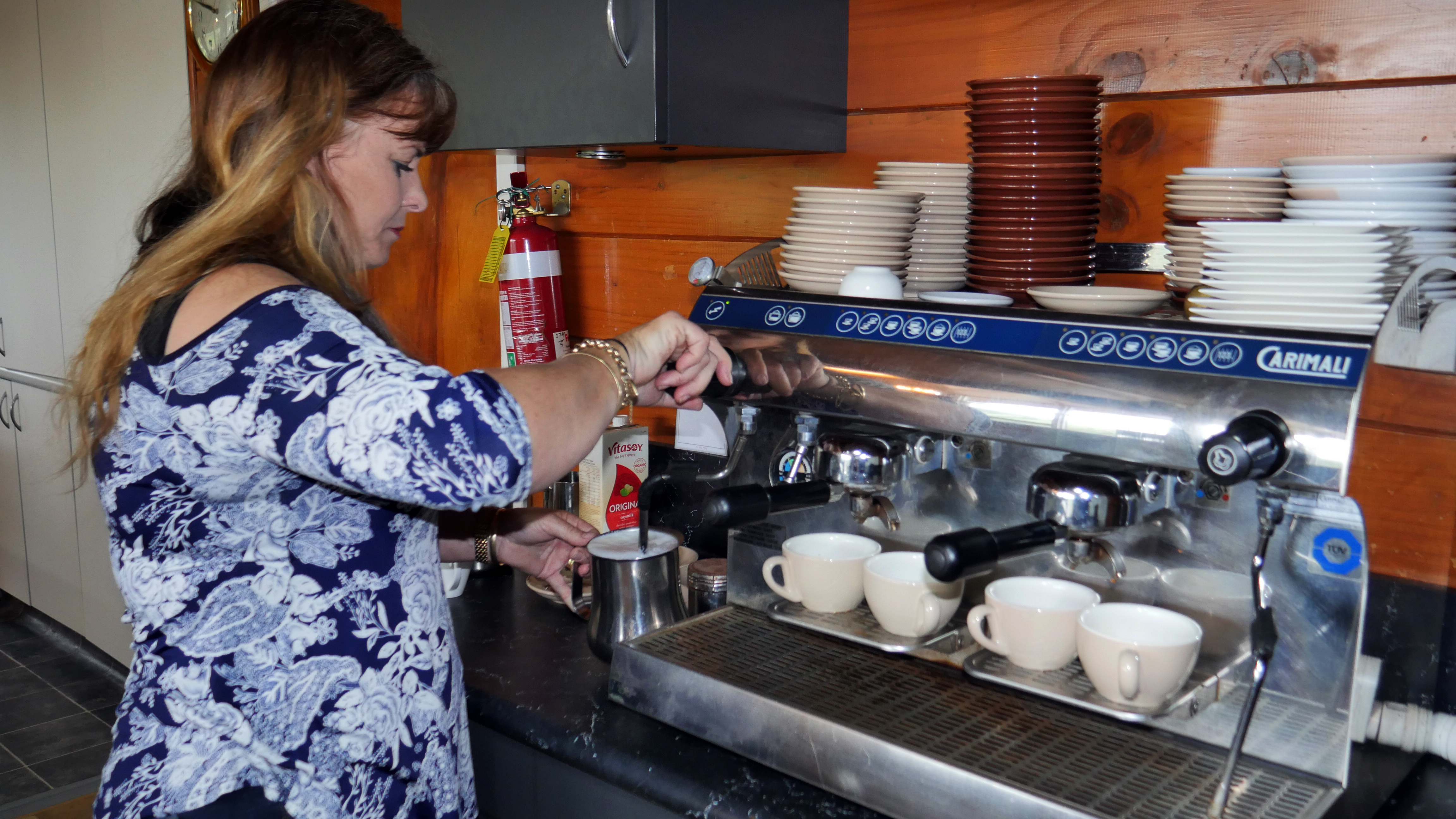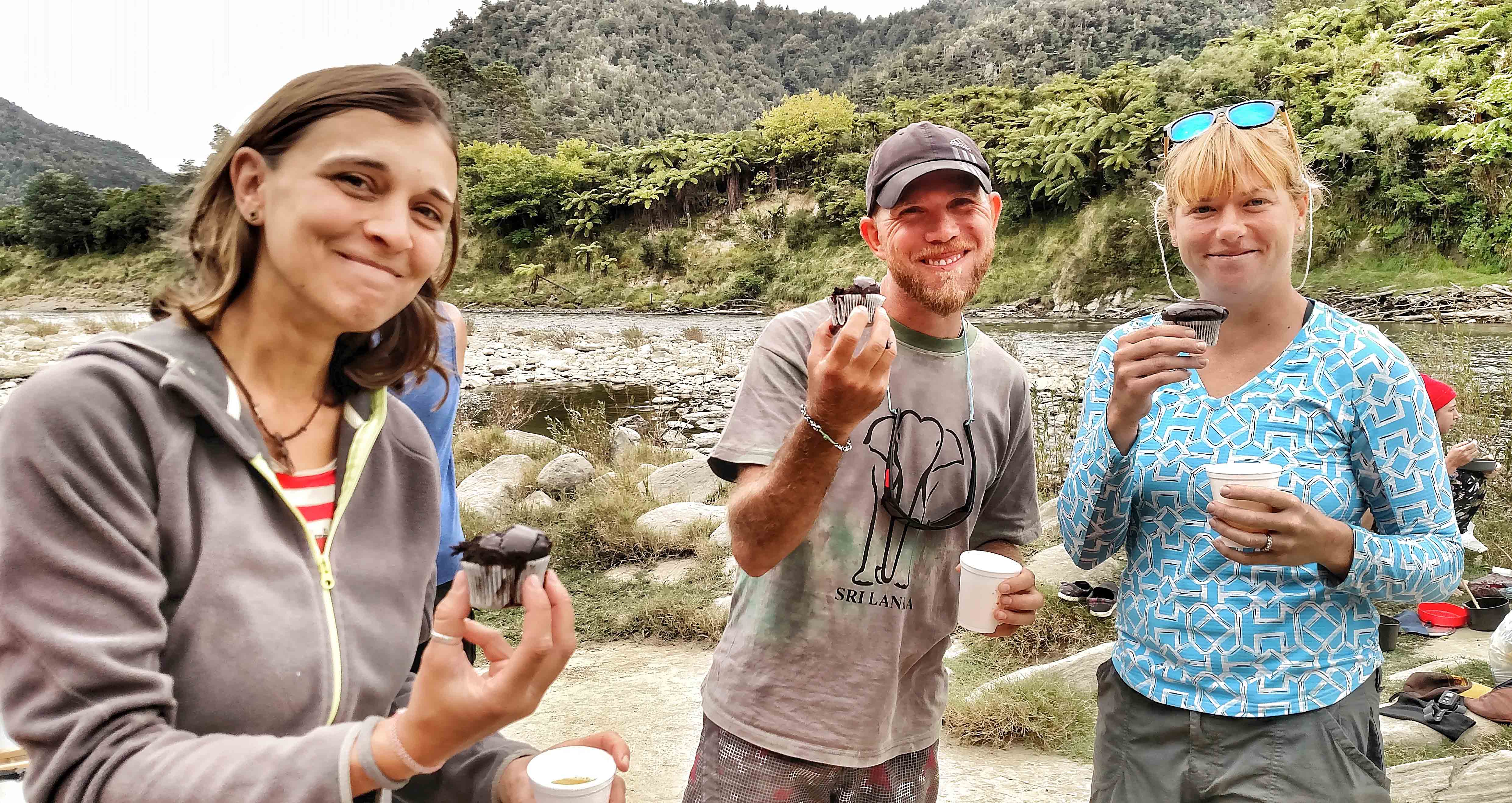 Our Base is 3 km from Taumarunui, perched up on a hill overlooking the Whanganui River, Taumarunui Township and Mount Hikurangi, a very special place to sit and plan your journey. Our emphasis is on relaxation and fun, all in a unique setting.
Our Business is built on us working together as a family to make your holiday as enjoyable as we can and you will be welcomed as part of it right from when you arrive.
Along with Freedom Camping and WiFi you will receive Barista Coffee and a treat with your SAFETY Briefing at our office.  At the drop off point we give you on the water training, and we meet you at the boat ramp with baking and a drink (for multi-day journeys) to welcome you back and say
WELL DONE.
You are welcome to Hire one of our well appointed GUEST UNITS. You are also welcome to FREEDOM CAMP or park your Campervan on our beautiful grassed area beside or overlooking the Whanganui river FREE the night before or after your journey. There is also a fire pit which you are welcome to light a fire, this will be the last fire you will be allowed to light on the Whanganui River.